Raja Training (2004) and Raja Coronation (February 2005)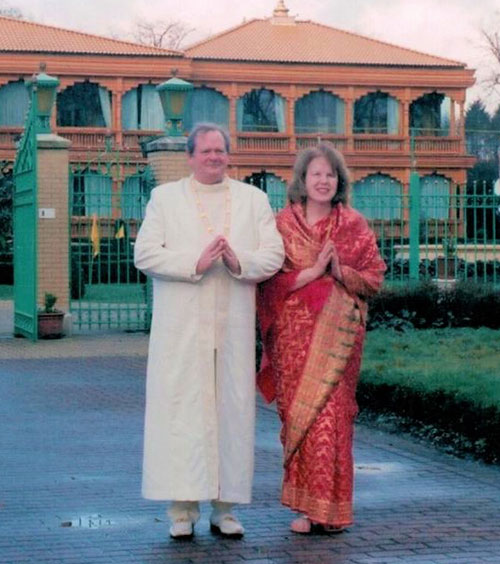 Raja Wynne and Maureen in front of Maharishi's house, MERU, Holland, at the culmination of Raja Training
Maharishi announced the first Raja Training course in the fall of 2003. Raja Wynne and Maureen and many others were with Maharishi in MERU at that time. Maharishi was determined that Raja Wynne should attend the course and with some dramatic help he did.
Silent Administration. Raja Wynne not only had very profound experiences during the course, but he also had the ability to perceive and recount to Maharishi in great detail the mechanics of what he was experiencing. Because of this, after the first month of the course, Maharishi had Raja Wynne just stay in his room and do very long programs, reporting to Maharishi twice a day about his experiences.
Raja Wynne called Maureen who was still in Iowa and working to raise the funds and organize the first campus for Maharishi Vedic Pandits. The larger greenhouse was also going up at that time and Maureen's birthday was coming up in a few days. Raja Wynne said that Maharishi had told him to put his computer in the drawer, speak with no one, and just focus on his program. Maureen wholeheartedly agreed.
A couple of weeks later Raja Wynne said he was quietly crossing the hall in Building 8 in MERU, Holland where the course was held to get some food in the small dining/snack area there and, seeing him, one of the other Raja course participants congratulated him on achieving the funding for the Vedic Pandits. That was the first he had heard of it. After that, Raja Wynne and Maureen found that if they really wanted to accomplish something, Raja Wynne focusing on silent administration was the way to achieve it.
Larry Chroman, Minister of the Global Country of World Peace, Trustee Emeritus MIU
"Long before Maharishi bestowed the title of Raja, Raja Wynne was a Raja.

"Maharishi said that the consciousness of the Rajas is able to hold responsibility from their deepest level of silence. That is the requirement of a Raja. A Raja is the administrator of the cosmic value of life from deep within, from the Absolute, completely unmanifest field of eternal silence.

"Being around Raja Wynne one was inspired. He was a great Raja.

"A few times I was fortunate enough to work on projects with Raja Wynne or be in the room when Raja Wynne was at the center of a project.

"A challenge would arise, shaking the foundation of the endeavor. All in the room would look at each other wondering how we would deal with the end of this program that Maharishi had said was vital. Raja Wynne would look serene, undaunted, his voice would be clear, and his demeanor undisturbed. He would wave his hand as if shooing away a bubble, and say, 'Oh, we just have to do this and that, then that and this, then talk to this person and the whole thing will be solved.' Everyone in the room would sigh with relief knowing the gigantic insurmountable was conquered. Raja Wynne and Maureen would work around the clock, come back the next day, and the issue was history.

"I often marveled, how does Raja Wynne do it? He seemed so relaxed, so at ease, regardless of the complexities of an issue; he could zero in on the key elements, then offer the straightforward, quickest solutions.

"As one would imagine a Raja, Raja Wynne was always gracious, always a joy to be around. One never felt rushed or overwhelmed in his presence. Like the palaces of storybook rajas, visiting your home on Mandala 2 was a respite, an oasis of joy, luxury, delicious food, and brilliant conversation, a reflection of Raja Wynne and Maureen.

"Some people are great because of their titles or the roles they step into. Raja Wynne was great because of who he was. He had the titles, he fulfilled the roles, yet his brilliance, his desire to bring heaven on earth for all regardless of the hurdles, his ability to do everything without seeming to do anything, made him a truly great man. Raja Wynne was a Raja in name and form.

"His accomplishments will provide peace and prosperity for generations. I feel so fortunate to have known and worked with him. I will always cherish his memory."
(click on each photo to enlarge it and read the caption)