Armenia (1989-1990)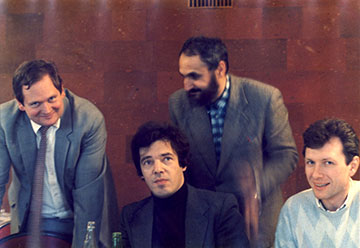 Consulting with the team in Armenia
In the fall of 1989, Armenia suffered a devastating earthquake that killed more than 25,000 people and made 500,000 homeless. A Russian named Joseph Goldin visited MIU at that time and encouraged the university to send a delegation to Armenia to build a Golden Dome.
At that time there were only 4 meditators in all the Soviet countries, and none in Armenia. In November 1989, a 7-member team of Raja Wynne, Raja Chris Crowell, Dr. David Orme-Johnson, architect Henry Clark, Richie Quinn, Greg Manokian, and Craig Perrinjaquet, M.D. from Colorado, received visas for earthquake relief and traveled to Yerevan, Armenia. As they flew over Europe on their way to Armenia, the Berlin Wall was falling. They were joined in January 1990 by Maureen, Dr. Rhoda Orme-Johnson, Dr. Ann Dow, from MIU, and Linda Quinn.
At this time of great transition, when attack helicopters were flying overhead in the Armenian capital of Yerevan due to tensions with neighboring Azerbaijan, and all gatherings of more than four people were banned, the doors opened to the MIU team. They taught the TM program to 30,000 in Yerevan and Leninakan (now Gyumri), the epicenter of the earthquake, as well as the first large courses in Moscow. They were followed by a British team in Armenia, and many teams of Governors throughout the former Soviet countries.
TM-Sidhi administrators Doug and Linda Birx created more than 200 sidhas in Yerevan. Many of the early meditators, including translators, became Governors, also teaching thousands in former Soviet Republics.
For example, Raja Wynne taught Armenian Angela Sulyan, MD, who became a Governor and started the Movement in Moldova, and he taught Svetlana Galstyan who became a Governor and the long-term national leader of Armenia.
The incredible blessings of Maharishi through the program in Armenia helped to bring a peaceful end to the Soviet Union without bloodshed or violence.
(click on each photo to enlarge it and read the caption)