Maharishi World Peace Vedic Organics—Maharishi Vedic Organic Agriculture (2003-2018)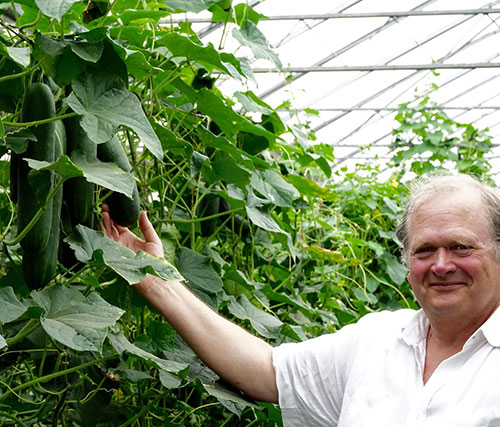 Raja Wynne proudly displaying the cucumber crop in the greenhouse
Raja Wynne, working under Maharishi's direction, formed Maharishi World Peace Vedic Organics, a nonprofit organization for education, demonstration, and research in Maharishi Vedic Organic agriculture. Maharishi gave the organization its name.
Parliaments for World Peace
This project arose out of the Parliaments for World Peace in the MIU, Fairfield, and Maharishi Vedic City communities when Maharishi asked everyone to think of how to support expansion of the coherence-creating community to 8,000. There were many suggestions—businesses, call centers, etc. But Dean Goodale suggested greenhouses and Maharishi pounced on that idea. It became a major focus of Raja Wynne and Maureen's lives for the next 15 years.
Acquiring land and building greenhouses
First, they located a 160-acre parcel of organic land a few miles north of Maharishi Vedic City that was for sale at auction. Raja Wynne successfully bid for the land, then scrambled to raise the funding for it through bonds, bank loans, and bridge financing.
The first greenhouse, a small hoop house of 2,880 square feet, was built in the autumn of 2003. During the winter and spring, the first part of a large gutter-connected greenhouse was built that eventually became 77,760 square feet after an expansion 2 years later. MIU also built a 43,200 square foot greenhouse on MWPVO's land that was acquired by MWPVO in 2014. Ultimately the operation had 123,840 square feet of greenhouses plus outdoor vegetable fields.
Maharishi Vedic Organic Agriculture recitations
The Maharishi Vedic Pandits began recitations in the greenhouses in fall 2011. These special recitations were performed according to the principles of Maharishi Vedic Organic Agriculture at each of the eight stages in the life of the plant, from seed to seed, and each was three to four hours in length. The Vedic Pandits repeated the recitations from their campus in Maharishi Vedic City in spring of 2012. In February 2014 the Maharishi Vedic Pandits began to come to the greenhouses every day to recite.
This was the first time in thousands of years that Maharishi Vedic Organic Agriculture with live recitations by the Maharishi Vedic Pandits was available in the world. Raja Wynne delighted in having as many people as possible enjoy this Maharishi Vedic Organic food, particularly the students, faculty, and staff of MIU, the members of the MIU/Maharishi Vedic City/Fairfield communities, and especially the Vedic Pandits themselves whom Maharishi had said could only recite properly when they themselves enjoyed Maharishi Vedic Organic food.
The greenhouse project continued until the Vedic Pandit program ended in November 2018.  Desiring to keep the greenhouses as an important community asset, Jim and Melanie Shaefer (Soil Technologies), through their company Akshaya International, acquired the greenhouses in 2019 and worked with Jorge Alva Diaz (Jorge's Organics) to continue providing the highest quality organic produce to the community.
(click on each photo to enlarge it and read the caption)