Mandala Project: Maharishi Center for Perfect Health and World Peace (1991-1997)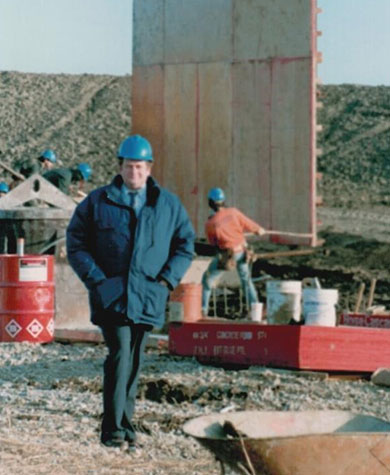 Raja Wynne at the construction site for Mandala 2
Maastricht course, January 12, 1991. Raja Wynne attended a large course with Maharishi in Maastricht, Holland (January 12, 1991) along with many MIU faculty and members of the MIU community. After the course, Maharishi held follow-up meetings in Valkenburg, Holland, focusing with members of the university community on expanding the size of the coherence-creating group in Fairfield to 7,000, which at that time was the square root of 1% of the world's population.  In these and subsequent meetings over the coming months he founded the Maharishi Center for Perfect Health and World Peace in Iowa, a 1,000-acre Maharishi Sthapatya Veda (Vastu) development of 10 Mandalas representing the 10 Mandalas of Rk Veda. He encouraged the groups from the community who were proposing developments to each take a Mandala, and they became Maharishi's Great Ten.
Raja Wynne and Maureen and Jane Hopson were asked by MIU President Dr. Bevan Morris to represent the MIU Mandala and that became a major focus of their lives. They formed a company, 7000 Development, and designed and built with Henry Clark, AIA, Mandala Two including The Mansion Hotel (now Maharaja's Capital in Maharishi Vedic City).
Maharishi's vision was that with ten Mandala developments of 500 bedrooms each, and each featuring a hotel and Maharishi AyurVeda health center, there would be a rotating group of 5,000 Yogi flyers at the Maharishi Center for Perfect Health and World Peace, joining the permanent 2,000 at MIU and the surrounding community, to achieve 7,000, the coherence-creating group for the world. This plan acknowledged that not everyone would move permanently to Fairfield, but envisioned that they would come for three weeks, three times a year, and go through Maharishi AyurVeda treatments for their health and also practice their TM-Sidhi program, including Yogic Flying, with the large group. The Zimmerman and Chroman families under Maharishi's guidance assembled the land.
Betsy and David Kettle, Landscape Architect and Engineer, New Zealand, formerly from Fairfield, IA
"Raja Wynne and Maureen were always thinking years ahead when planning for the future of the Movement. The Maharishi Center for Perfect Health and World Peace was a great example of that. David and I were part of the Development Team. This was to become an ideal community centered on Maharishi's knowledge with a focus on Ayurveda.

"We hadn't even started to reach our goal on land acquisition, when Raja Wynne and Maureen were talking about making this the USA's newest city. They talked to us about incorporation and getting all the necessary paperwork together. It all seemed a bit over the top for some fields of corn stubble, but they insisted. They were having us check to make sure the land being purchased was a minimum distance from Fairfield (a State of Iowa requirement). And while we were doing this, they were dreaming and developing zoning, codes, and covenants to reflect the uniqueness of a Vedic Community. This was in 1991. It is a beautiful example of Raja Wynne and Maureen's tenacity to work through complicated and often difficult long-term projects. But it was their vision and commitment and another 10 years until Maharishi Vedic City was formally approved to become Iowa's 950th city, and the first new city in Iowa for over 25 years. We hope there will be something important named after Raja Wynne in Maharishi Vedic City, as this is one of his many legacies. We honor you, Raja Bob Wynne!"
Doug Greenfield, Vastu developer, Fairfield, Iowa
"When I came to you and Raja Wynne many years ago offering my help to build the Mansion Hotel, we immediately became life-long friends. Your achievements together are historic. Regardless of any situation, you both were able to manifest Maharishi's vision for any project—never a doubt, never hesitating, and always just serving Maharishi's desires for a better world. It has been such an honor to work and play with you both throughout the years. I have so many sweet memories of our Raja Wynne. Your life was the perfect love story where all possibilities became possible."
The Mansion opened in 1996, followed by other buildings on Mandala Two including the homes of Raja John Hagelin, Raja Wynne and Maureen, Alarik and Cynthia Arenender, and Jay and Susan Marcus.  USA Global Link acquired a building the Wynnes built next to The Mansion. 
Raja Wynne and Maureen became deeply committed to Vastu through this project. Chris Hartnett, who purchased a full-time timeshare at The Mansion when it first opened and established USA Global Link on Mandala Two, dubbed Raja Wynne as "Vastu Bob."
(click on each photo to enlarge it and read the caption)