Global Country of World Peace (2002-2020)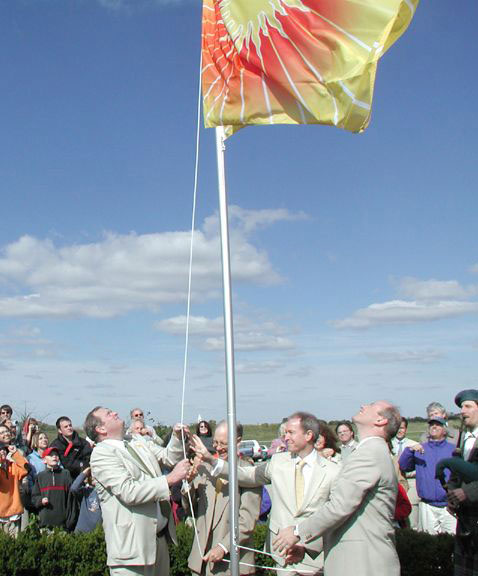 Inaugurating the Capital of the Global Country of World Peace, 2002
In the autumn of 2002, Maharishi asked that The Mansion be acquired as Maharaja's Capital of the Global Country of World Peace and said that when it was acquired, Maharaja would visit. If it were not acquired, he would not visit! With the help of Raja Kingsley and Leslie Brooks and generous donors around the country, the money was raised to buy the building from its then owner, a well-wisher who had acquired it from USA Global Link. The fundraising was achieved, and the building acquired by MIU.
But Maharishi wanted it to be owned by a new organization, Global Country of World Peace. In one auspicious day, October 15, 2002, Global Country of World Peace was incorporated as an Iowa nonprofit corporation (later securing IRS approval as a 501(c)(3)), MIU purchased the Mansion, flags were raised in a grand celebration, and with the help of attorney Nancy Watkins title to the building was transferred to the newly formed Global Country of World Peace.
This was followed by the acquisition by Global Country of World Peace of 6 of the 10 mandalas, and sites for Peace Palaces and educational campuses around the US.
(click on each photo to enlarge it and read the caption)